Become part of an unforgettable musical experience with a world-renowned music educator and conductor by applying for the 17th Annual Wright State University Tri-State Honor Band!
2016 Guest Conductor Jack Stamp
Music Director and Conductor of Keystone Wind Ensemble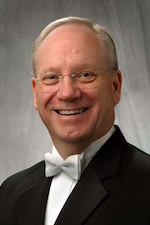 This year's conductor will be Dr. Jack Stamp, award-winning composer, conductor of the renowned and highly recorded Keystone Wind Ensemble, and Director of Bands Emeritus from Indiana University of Pennsylvania!  Recognized as one of the most respected composers and wind music authorities across America, Dr. Stamp is in constant demand as a popular guest conductor and clinician for numerous professional and university ensembles, and honor bands throughout the nation.  Students performing under Dr. Stamp's baton at this year's TSHB are virtually guaranteed a musical experience that will be remembered for a lifetime!
Chair of the Tri-State Honor Band
Dr. David Booth, Director of Bands at Wright State University
Title:
Professor of Music and Director of Bands and Wind Conducting Studies
Address:
Creative Arts Center M081C, 3640 Colonel Glenn Hwy., Dayton, OH 45435-0001
Registration is Only for those applicants who have recieved notification of acceptance into the Tri-State Honor Band.
Application process for Tri-State Honor Band
Make sure you complete all four steps!
All applications and recordings must be post-marked on or before Friday, December 4, 2015.
If you filled out a paper application, mail your application and audition recording to:
Dr. David Booth, Chair, WSU Tri-State Honor Band
School of Music
Wright State University
3640 Colonel Glenn Hwy.
Dayton, OH 45435