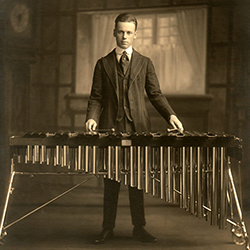 The Bob Becker Xylophone Seminar is an opportunity to improve your technique, develop your feeling for style, and explore some exciting approaches to ragtime improvisation.  The one-week course at Wright State University in Dayton, OH, will include lectures, listening sessions, technique and improvisation classes, ensembles and concerts.  In addition there will be performances by outstanding professionals as well as a final show featuring Mr. Becker and each of the students. This seminar is geared for college students, educators, and professionals.
This seminar is geared for college students, educators, and professionals.  More information is available on the registration page.
Seminar Faculty & Guest Performers:
Bob Becker
]Born on June 22, 1947 in Allentown, Pennsylvania, Bob Becker holds the degrees Bachelor of Music with Distinction, and Master of Music (Performance and Literature) from the Eastman School of Music where he studied percussion with William G. Street and John H. Beck, and composition with Warren Benson and Aldo Provenzano. As an undergraduate he was also awarded the school's prestigious Performer's Certificate for his concerto performance with the Rochester Philharmonic. He later spent four years doing post-graduate study in the World Music program at Wesleyan University where he became intensely involved with the music cultures of North and South India, Africa and Indonesia. As a founding member of the percussion ensemble NEXUS, he has been involved with the collection and construction of a unique multi-cultural body of instruments as well as the development of an extensive and eclectic repertoire of chamber and concerto works for percussion.
Becker's performing experience spans nearly all of the musical disciplines where percussion is found. He has been percussionist for the Marlboro Music Festival and timpanist with the Marlboro Festival Orchestra under Pablo Casals. He has also performed and toured as timpanist with the Kirov Ballet and the Tafelmusik Baroque Orchestra. For several years he toured as drummer and percussionist with the Paul Winter Consort. He has performed and recorded with such diverse groups as the Ensemble Intercontemporaine under Pierre Boulez, the Ensemble Modern of Germany, the Schoenberg Ensemble of Amsterdam, and the Boston Chamber Players. In 2003 and 2004 he performed as percussionist with the Grand Teton Music Festival Orchestra. He has worked with today's most significant conductors including, among many others, Seiji Ozawa, Zubin Mehta, Christoph Eschenbach, Sir Andrew Davis, and Michael Tilson Thomas. In 1988 he directed and performed in the show SuperPercussion at the Tokyo Music Joy Festival, which brought together NEXUS, the Korean percussion group Samul-Nori, drumset artist Steve Gadd, and Ghanaian master drummer Abraham Adzenyah.
His work with African percussion traditions includes study and performance with master drummers Abraham Adzenyah, Gideon Alorwoye, and Freeman Donkor, as well as with mbira specialist Paul Berliner. In 1986 he traveled to Senegal, Mali, Ivory Coast, and Kenya as the representative of the World Drums Festival of Expo '86. He was co-founder and the first director of the Flaming Dono West African Dance and Drum Ensemble in Toronto, a group devoted to learning and performing the dance-drumming styles of the ethnic groups in present-day Ghana.
A disciple of Pandit Sharda Sahai, the foremost exponent of the Benares tabla style, Becker began his study of Hindustani music in 1970. He has since appeared with many of India's leading artists including sarangi virtuoso Ram Narayan, sarodist Amjad Ali Khan, composer and flutist Vijay Raghav Rao, and vocalists Laksmi Shankar, Pandit Jasraj, and Jitendra Abisheki. In addition, he has worked closely with some of the most significant American exponents of Indian classical music – sitarist Peter Row and bansuri flutist Steve Gorn. For several years Row, Gorn, and Becker performed together as the Vistar Trio. Becker made his tabla solo debut in 1982 at the Nagri Natak Academy Concert Hall in Benares, India.
Becker co-founded the percussion group NEXUS, which gave its first performances in 1971 and continues to perform around the world. The ensemble has toured extensively throughout North America, Europe, and Asia, performing in chamber music venues as well as with symphony orchestras, and has recorded over twenty-five CDs. With NEXUS Becker has appeared as soloist with the New York Philharmonic, the Boston Symphony, the Chicago Symphony, the Philadelphia Orchestra, the Cleveland Orchestra, the San Francisco Symphony, and the Los Angeles Philharmonic, among many others, and has received the Toronto Arts Award and the Banff Centre for the Arts National Award. In 1999 he and the other members of NEXUS were inducted into the Percussive Arts Society Hall of Fame.
Becker has been a regular member of the ensemble Steve Reich and Musicians since 1973. With this group he has appeared as soloist with the Israel Philharmonic, the Brooklyn Philharmonic, the New York Philharmonic and the London Symphony and recorded extensively for Deutsche Grammophone, EMI and Nonesuch. In 1998 the ensemble won a Grammy award for its recording of Reich's Music for 18 Musicians. Becker has been a featured performer in all of Reich's percussion music, including Drumming, Piano/Marimba Phase, Six Pianos/Six Marimbas, Sextet, and Nagoya Marimbas; the large ensemble and orchestral pieces, such as Tehillim, The Desert Music, and City Life; and also the recent large-scale theater works, including The Cave and Three Tales.
Generally considered to be one of the world's premier virtuoso performers on the xylophone and marimba, Becker also appears regularly as an independent soloist and clinician. In particular, his work toward resurrecting the repertoire and performance styles of early 20th century xylophone music has been recognized internationally. He has appeared as xylophone soloist at the Blossom Festival, the Eastern Music Festival, the Meadow Brook Festival, the Grand Teton Music Festival and with orchestras and concert bands throughout the United States. Since 2000 he has directed an annual ragtime xylophone seminar at the University of Delaware, Newark, DE, which has attracted an international student body. In 1998 he was concertmaster, marimba soloist, and xylophone soloist with the 164-member Musser Festival Marimba Orchestra, conducted by Frederick Fennell, at West Point, NY. In 2005 he was again concertmaster and soloist with the Clair Musser World's Fair Marimba Orchestra at Northwestern University, Evanston, IL. In 2011 he was concertmaster for the 50th Anniversary Marimba Orchestra at PASIC, 2011 in Indianapolis, IN.
Becker has performed and lectured for music departments and percussion programs throughout North America and Europe. His clinics and workshops cover a wide variety of percussion topics including North Indian tabla drumming, West and East African percussion,"melodic" snare drumming, rudimental arithmetic, creative approaches to cymbal playing, and ragtime xylophone improvisation concepts. In 1996 and 2001 he was a Guest Lecturer for the Banff Centre for the Arts, Banff, Alberta. In the fall of 2002 he was a jurist for the Geneva International Music Competition in Switzerland and in 2005 he was a member of the jury for the International Percussion Competition Luxembourg. He has served as editor for the contemporary percussion issue of the British publication Contemporary Music Revue and served for two years on the board of directors of the Percussive Arts Society. For the fall term of 2005 he was appointed Lecturer in Percussion and Director of the Percussion Ensemble at Rutgers University, New Brunswick, NJ.
Since 1988 he has been associated with the Malletech Company, where he helped design the Bob Becker Concert Xylophone as well as a successful line of signature xylophone mallets now used by percussionists around the world. As an endorser for the Sabian cymbal company he has helped design special instruments for applications in symphonic and contemporary chamber contexts, the Becker Bowing Cymbal being one result. In 2005 he received Sabian's Lifetime Achievement Award. In 2006 he was recognized as a "Master Drummer" by the International Association of Traditional Drummers, an organization founded by the legendary rudimentalist John S. Pratt.
Becker's compositions and arrangements are published by Keyboard Percussion Publications and are performed regularly by percussion groups world-wide. He also has a long history of association with dance, and has created music for the Joffrey Ballet in New York, among others. In 1991 he and Joan Phillips were awarded the National Arts Centre Award for the best collaboration between composer and choreographer at Toronto's INDE '91 dance festival. Recent works include There is a Time, commissioned by Rina Singha and the Danny Grossman Dance Company, Noodrem, commissioned through the Canada Council by the Dutch ensemble Slagwerkgroep Den Haag, Turning Point, composed for the NEXUS ensemble, Cryin' Time, a setting of poetry by the Canadian artist Sandra Meigs, Never in Word and Time in the Rock, settings of poetry by the American author Conrad Aiken, and Music On The Moon, commissioned through the Laidlaw Foundation by the Esprit Orchestra in Toronto. Five of his compositions are included on his solo album, There is a Time, released in 1995 on the Nexus Records label. In the spring of 1997 he was selected to be composer-in-residence for the Virginia Waterfront International Festival of the Arts which featured the United States premiere of Music On The Moon by the Virginia Symphony, conducted by JoAnn Falletta, and a concert of his chamber works by his own group, the Bob Becker Ensemble. In April, 2005 he was featured during the 25th Anniversary of the Budapest Spring Festival as guest soloist with the Hungarian percussion ensemble Amadinda in a concert of his own compositions. In July, 2009 he was showcased at the first International Belgian Percussion Festival as soloist with the Swedish percussion group Kroumata in a concert featuring his own compositions and arrangements. He recently completed work on a book titled Rudimental Arithmetic, an in-depth study of the mathematical bases of the rudiments of snare drumming and their applications in composition and polyrhythmic theory, released by KPP in 2008. His most recent composition, Preludes, was premiered in August, 2011 at the Roots and Rhizomes Percussion Residency at the Banff Centre for the Arts in Banff, Alberta, with Steven Schick conducting. The 20-minute work is in two movements, scored for string quartet, piano, glockenspiel, vibraphone, marimba and timpani, and was commissioned by the Banff Centre. In November, 2011 Becker's music was showcased in a concert at the Percussive Arts Society's 50th Anniversary International Convention.
Bill Cahn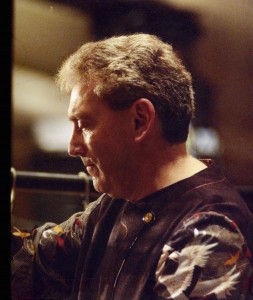 Bill Cahn has been a member of the NEXUS percussion quintet since 1971, and was the principal percussionist in the Rochester Philharmonic Orchestra from 1968 to 1995.  Born in Philadelphia in 1946, Bill has performed with conductors, composers, ensembles, and artists representing diverse musical styles – Chet Atkins, John Cage, Aaron Copland, Chuck Mangione, Mitch Miller, Seiji Ozawa, Steve Reich, Doc Severensen, Leopold Stokowski, Igor Stravinsky, Edgar Varèse and Paul Winter.
Since 2006 Bill has been an Associate Professor of Percussion at the Eastman School of Music in Rochester, New York.  He is also a faculty artist-in-residence at the Showa Academy of the Arts in Kawasaki, Japan since 1998, and he has been a guest faculty member at the Banff Centre for the Arts in Canada.
Bill has conducted pops and education programs with symphony orchestras, and his compositions for solo percussion, percussion ensemble and percussion with orchestra/band are widely performed.  His fourth book, "Creative Music Making," on freeform improvisation was published by Routledge Books in 2005.
Bill has received the Rochester Philharmonic League's FANFARE AWARD (1988) for a "significant contribution to music education in Rochester," Mu Phi Epsilon's MUSICIAN OF THE YEAR AWARD (1993), and with NEXUS, the TORONTO ARTS AWARD in music (1989), the BANFF CENTRE FOR THE ARTS NATIONAL AWARD (1997), and induction into the Percussive Arts Society's HALL OF FAME (1999). In 2006 Bill received a GRAMMY Award as part of the Paul Winter Consort on the DVD titled, "2004 Solstice Concert."
Bill Platt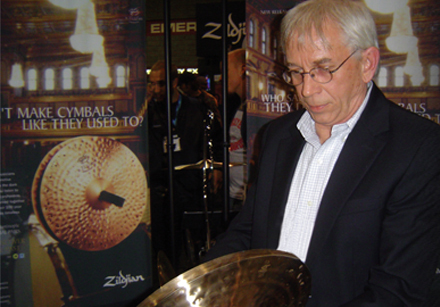 Band/Affiliation: Cincinnati Symphony Orchestra / Cincinnati Pops Orchestra
Country: United States
William Platt is a graduate of The Eastman School of Music where he was a student of William G. Street. He has been the Principal Percussionist of the Cincinnati Symphony and Cincinnati Pops Orchestras since 1971 and recently retired in 2009. He has appeared in over 100 recordings with the orchestras, many as a featured soloist. Before joining Cincinnati, Bill played in the U.S. Army Band in Washington, D.C. and the symphony orchestras of Rochester, N.Y. and Richmond, VA.
Bill has been a faculty member at Ohio University and the Cincinnati College-Conservatory of Music at the University of Cincinnati.
In his long career with the Cincinnati Symphony, Platt, who is equally at home in a wide variety of music, was the featured soloist for the Orchestra's world premiere performances of Frank Proto's Concertino for Percussion and Strings - and also on the premiere recording of the work for Red Mark Records. He was one of the featured soloists for Proto's The New Seasons - Sinfonia Concertante for Tuba, Percussion, Flutes and Strings and Three Pieces for Percussion and Orchestra. He also was the solo drummer in the Cincinnati Pops Orchestra's recording of Proto's A Portrait of George.
He has performed and recorded extensively with double bass virtuoso François Rabbath, including the world premiere recordings of Proto's Concerto No. 2 for Double Bass and Orchestra (solo drummer), Carmen Fantasy for Double Bass and Orchestra (solo percussion), and Fantasy for Double Bass and Orchestra (solo dombec).
Yurika Kimura: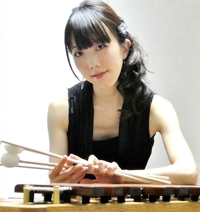 Yurika Kimura began training on the piano when she was three years old, later adding marimba studies with Atsuko Uno. She majored in percussion performance, piano and Hammond organ at the Sakuyo College of Music, graduating with a scholarship and an award as the top student in all departments. Her major teachers include Mitsuaki Imamura, percussionist with the NHK Symphony Orchestra, and marimba virtuoso Keiko Abe. In addition, she is a licensed therapist by the Japan Music Therapy Association.
In 2003 Yurika performed as marimba soloist at the Hamamatsu International Wind Instrument Academy and Festival, where she was named "Best Student" in the marimba class by Keiko Abe.Following that honor she continued independent studies with Abe for seven years, concentrating on solo marimba repertoire by the most significant Japanese composers, as well as all of the marimba compositions by Abe herself. She has performed at music academies and festivals in Europe, the United States and throughout Japan. In 2011 she appeared at the 50th Anniversary Percussive Arts Society International Convention in Indianapolis, IN as a member of the Bob Becker Ensemble, performing together with keyboard artists Bill Cahn, Christopher Norton, Gordon Stout and Bob Becker.
Since 2004, Yurika has also performed as a concert xylophonist, specializing in the virtuoso repertoire of early 20th century America. She is soloist and director of the leading Japanese ragtime trio. Her uncanny ability to play the marimba using four, five and six mallets simultaneously has allowed her to create transcriptions and arrangements of 1920s period accompaniments originally performed on a piano or by small orchestras. In 2012 she appeared together with Bob Becker at the Leigh Howard Stevens Summer Marimba Seminar and the Bob Becker Ragtime Xylophone Institute. Yurika recently became associated with the Malletech Company as an Artist Endorser. She performs on the Malletech Imperial Grand Marimba.
Heather Thorn

Heather Thorn is an accomplished artist whose performance career spans the fields of music, acting and modeling. 
In 2011, Heather was a featured guest artist on xylophone in the Michael Andrew Swingin' Christmas show. She was also a member of the PAS 50th Anniversary Marimba Orchestra under the baton of Gordon Stout. Heather has performed with the Asheville and Fayetteville Symphonies and has appeared as a soloist with the percussion ensembles of University of North Carolina- Asheville, University of North Carolina- Greensboro and Ithaca College. She was a proud member of Gordon Stout's Marimba Band for two years. Heather also performed with the musical trio Triplets, which featured her as a xylophone soloist.   Other notable performances include appearing as a soloist in the Sound Celebration Concert- a benefit for the Georgian Bay Symphony in Owen Sound, Ontario, First Night of Asheville New Year's celebration, and as a xylophonist at Universal's Islands of Adventure. 
Currently, Heather resides in Orlando, Florida where she performs and has a private studio of more than 45 percussion students. She also works regularly as a clinician and guest artist in many of the area schools and co-directs the percussion department at Trinity Preparatory School. She is band leader for her groups Vivacity and Home Town Heroes, which feature her on the xylophone. Heather performs with the Walt Disney Orchestra and with Michael Andrew and Swingerhead. She also has her own solo vaudeville show featuring an original character Xillie the Xylophonist.
Heather has a passionate interest in the history of xylophone and is working with Bill Cahn on a project to digitize and preserve nearly 1500 recordings of xylophone and percussion music from 1898-1929. Heather holds a Bachelor of Music degree with a minor in theatre from Ithaca College. She has attended the Leigh Howard Stevens Marimba Seminar and the Bob Becker Ragtime Institute. Her teachers have included Gordon Stout, Bob Becker, and Byron Hedgepeth. Heather plays a Malletech Bob Becker xylophone.
Jeff Luft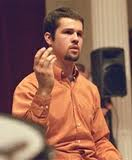 Jeff Luft has been a member of the Dayton Philharmonic since 2005 and has also performed with the Pittsburgh Symphony Orchestra, Cincinnati Symphony, Cincinnati Pops, Fort Wayne Philharmonic, Louisville Symphony, and has toured the U.S. playing percussion and timpani with the River City Brass Band.  He has served as adjunct faculty at the University of Louisville and Northern Kentucky University and has held positions with the Ann Arbor and Canton Symphonies. A graduate of Carnegie Mellon University, Mr. Luft received his BM and MM in percussion performance, studying under Timothy K. Adams of the Pittsburgh Symphony and Mr. Paul Evans of the River City Brass Band.  He also spent three summers at the Brevard Music Center, and an additional two summers in Santa Barbara, California at the Music Academy of the West.  He has studied privately with members of the San Francisco Symphony, Cincinnati Symphony, Chicago Symphony, Pittsburgh Symphony, Boston Symphony, and The Cleveland Orchestra. Mr. Luft also performs on percussion with the modern dance company, MamLuft&Co Dance, which is based in Cincinnati  and directed by wife, Jeanne S. Mam-Luft.  Luft Timpani Mallets, which are handcrafted by Jeff, are used by professional musicians throughout the United States, South America, and Europe.
Jerry Noble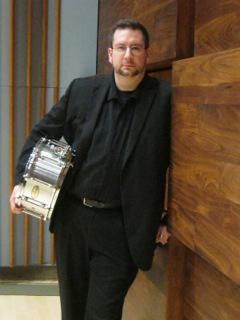 Jerry Noble is Director of Percussion at Wright State University, a member of the Dayton Philharmonic, and serves as President of the Percussive Arts Society-Ohio Chapter.  Frequently performing with the Cincinnati Symphony/Pops and the Fort Wayne Philharmonic, he has also performed as timpanist and/or percussionist with the Indianapolis Symphony, Alabama Symphony, Indianapolis Opera, the Cincinnati Chamber Orchestra, New Mexico Symphony, and the New World Symphony.  As a chamber musician he has performed alongside members of the Cleveland, Indianapolis, and Cincinnati symphonies; worked with Bob Becker of NEXUS, and performs in a newly formed duo called Tamburo Doppio with friend and colleague, Keith Aleo from the Boston Conservatory.  Jerry has also worked with Paavo Jarvi, Michael Tilson Thomas, Louis Langre, Giancarlo Guerrero, Robert Spano, Eighth Blackbird, Sir James Galway,Maya Angelou, Janos Starker, Eddie Daniels, and Don Rickles.  He has premiered works by Phillip Glass, Michael Daughtery, PQ Phan, John Mackey, and has recently commissioned Stuart Saunders Smith, Josh Quillen, and Nicholas Papador for upcoming premiers, along with a consortium commission for a new work by Alejandro Vinao, with Michael Burritt.  Recording credits include the Cincinnati Symphony, Fort Wayne Philharmonic, USAF Band of Flight, and the Dayton Philharmonic.  In recent summers, Jerry has performed and/or taught at the Masterworks Festival, Lakeside Symphony, and festivals in Alaska and Hawaii.  This summer he is looking forward to being a part of the Interlochen Arts Academy Summer Percussion Seminar and is excited about returning to Alaska and Hawaii to teach and perform. 
Previously, Jerry was a member of the USAF Band of Flight where he performed over 1,500 concerts throughout the Midwest with the Concert Band, Brass Quintet, and Jazz Band; including performances for presidents, vice presidents, and other heads of state. He has toured the Caribbean as drummer for Princess Cruises, performed with Star of Indiana's "Brass Theater," and served as percussion staff/arranger with the University of Cincinnati Bearcats Band.  Degrees are from the University of Cincinnati-College Conservatory of Music, Indiana University, and Cleveland State. Primary teachers include: Tom Freer, Gerald Carlyss, and the members of the Percussion Group Cincinnati.
Jerry Noble is a performing artist/clinician for Zildjian, Pearl/Adams, Pro-Mark, and serves as a clinician/consultant for Evans Heads.