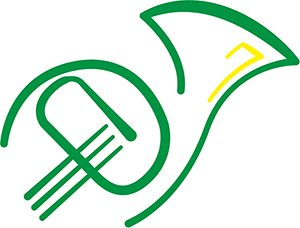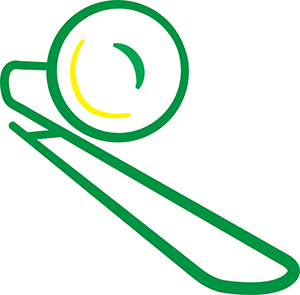 We are excited to host the WSU Horn and Trombone Festivals again this year. We bring to you world-renowned guest artists and clinicians for a day of music making, master classes and performances. There will also be industry vendors on site with instruments to try and supplies to purchase. The cost to attend is FREE, but all participants need to register! The festival is open to high school and college students, amateurs and professionals. 
The festivals will also be host to several performance competitions including Student and Young Artists Divisions for both, Solo Trombone and Solo Horn, as well as a Composition Contest for Horn. Competition rules, registration, and fees are described in the tabs below. Click for more information.
HOSTS:  Jonas Thoms and Gretchen McNamara
Solo Competition
Dates:
Preliminary Round (Recorded Round): Postmarked by December 5, 2014
Notification of Finalists: December 22, 2014
Final Round (Live Round): January 19, 2015, 10:00 am
Prizes:
Trombone Student: 1st Place: $200
Trombone Young Artist: 1st Place: $250
Horn Student: 1st Place: $200
Horn Young Artist: 1st Place: $250
The Winner of each division will perform on a Recital later the same afternoon (January 19, 2015) at Wright State University's Horn and Trombone Festivals.
The Runner-up in each division will perform in a master class with Festival Guest Artists:
Roger Kaza, Principal Horn – Saint Louis Symphony Orchestra
Matthew Guilford, Bass Trombone – National Symphony Orchestra
Entry Fee:  $25
Entry fee payment is online and can be made by using:
Mastercard
Visa
Discover
webCheck
Competition Eligibility and Repertoire
Student Division: Students must be enrolled in high school or home schooled at the high school level.
Young Artist Division: Applicants must be enrolled in college at the Undergraduate Level.
Qualifications for both divisions:
All competitors must record a solo movement or movements of their choice not to exceed a total of 8 minutes
Tenor and Bass Trombone applicants will be considered with-in the same division
The Preliminary round may be recorded with or without piano accompaniment
The Final round will be performed live with piano accompaniment and an accompanist will be provided if needed
No repertoire restrictions exist, however, difficulty of repertoire will be considered when selecting finalists
All applicants must be available to perform in the LIVE FINALS ROUND on campus Monday, January 19, 2015
Two or three finalists will be selected from each category to perform in the final round on January 19, 2015
Rehearsals with accompanist (if needed) will be scheduled for the morning of January 19, 2015
Submitting your recording
Recordings must be postmarked by December 5, 2014, either by mail or e-mail.  No recording will be considered without submission of the application fee.
Electronic submissions should be in MP3 format. Mailed submissions may be submitted on a CD or flash drive in MP3 format.
Please include the following information with your recording:
Name
Address
Phone Number
Email address
School
Year in School
Electronic Submission
US Mail Submission
Please mail materials postmarked no later than December 5, 2014 to Gretchen McNamara (Tenor and Bass Trombone Only) or Jonas Thoms (Horn Only) at:
Solo Competition for Horn and Trombone
Wright State University
School of Music
3640 Colonel Glenn Hwy.
Dayton, OH 45435-0001
Horn Composition Contest
Dates:
Submission Date: Postmarked by December 5, 2014
Notification of Winner: January 1, 2015                                             
The Wright State University School of Music Horn Festival Composition Contest is open to composers of all ages. Works should be 8 minutes or less and be written for solo horn or horn and piano. The winning composition will be published by Veritas Musica Publishing and be performed by Principal Horn of the Saint Louis Symphony Orchestra, Roger Kaza as part of his recital at the Wright State University Horn and Trombone Festivals on January 19, 2015 at 6:30pm. Additionally, the winning composer will receive a $250 honorarium. Please direct any questions to Jonas Thoms at jonas.thoms@wright.edu.
Entry Fee: $25
Entry fee payment is online and can be made by using:
Mastcard
Visa
Discover
webCheck
Competition Guidelines
All materials and the application fee must be postmarked by December 5, 2014.
Compositions for solo horn or horn and piano are eligible.
Compositions must be eight minutes or less.
One winner will be chosen by the competition committee and notified by January 1, 2015.
Submission Guidelines
Electronic submissions must include a score in .pdf format.
A recording of a live performance or generated through music notation software in .mp3 format should also be included.
A $25 non-refundable application fee must be received before any submission will be considered.
Email or Dropbox submissions are preferred. However, mailed submissions will be accepted. Mailed recordings may be submitted on a CD or flash drive in .mp3 format.
Include the following information with your submission:

Name
Address
Phone Number
Email address

Electronic submissions should be sent to Jonas Thoms at jonas.thoms@wright.edu
Mailed materials should be sent to Jonas Thoms at:
Horn Composition Contest
Wright State University
School of Music
3640 Colonel Glenn Hwy.
Dayton, OH 45435-0001
Guest Artists & Clinicians
Roger Kaza – Horn
Roger Kaza rejoined the St. Louis Symphony as Principal Horn in the fall of 2009, after 14 years with the Houston Symphony. He was previously a member of the STL Symphony horn section from 1983-95, and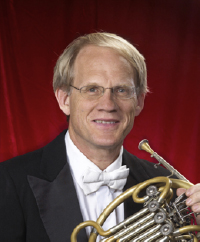 prior to that held positions in the Vancouver Symphony, Boston Symphony, and the Boston Pops, where he was solo horn under John Williams. A native of Portland, Oregon, he attended Portland State University, studying with Christopher Leuba, and later transferred to the New England Conservatory in Boston, where he received a Bachelor of Music with Honors in 1977 under the tutelage of Thomas E. Newell, Jr.
Kaza's musical activities are wide-ranging. The son of two musicians, growing up in a musical family, he received his early training on piano, giving two solo recitals on that instrument before concentrating on horn. He has studied composition with the Czech-American composer Tomas Svoboda, and conducting with Leonard Slatkin, Gunther Schuller, and Murry Sidlin. He conducted over 40 concerts with members of the Houston Symphony under the auspices of its Community Connections outreach program, giving concerts in schools, churches, homeless shelters, and retirement homes.
As an educator, Kaza has served on the faculties of the University of Houston, Rice University, St. Louis Conservatory, University of Missouri-St. Louis, Southern Illinois University-Edwardsville, and has given master classes at the Eastman School, Juilliard School, Indiana University, University of Michigan, and many others. Students from his years of teaching fill orchestral positions worldwide, including principal players in major U.S. symphonies, and chamber groups such as the Canadian Brass. In addition, he has been engaged as guest artist and performer for the International Horn Society at international and regional conferences. He is the writer/producer/performer of the instructional CD, Audition: Improbable, and a contributor to the syndicated NPR radio show and podcast, Engines of Our Ingenuity.
Kaza has appeared as soloist with many orchestras, including the St. Louis, Vancouver, and Houston symphonies, and the Carlos Chavez Chamber Orchestra in Mexico City. A frequent chamber musician as well, he has performed at numerous summer venues, including the Bravo! Vail Valley Festival, Chamber Music Northwest, Mainly Mozart, and the Aspen and Marrowstone festivals. He presently serves as instructor of horn at the Chautauqua Institution's Music School, where he is also Principal Horn of the Chautauqua Symphony.
An avid bicyclist, hiker, and whitewater rafter, Kaza is especially fond of the horn in its "original" setting: out-of-doors. A performance of Olivier Messiaen's "Interstellar Call," from his suite From the Canyons to the Stars, recorded at the bottom of the Grand Canyon, was personally critiqued by the composer shortly before his death in 1992.
Lee K. Blakeman – Trombone
Mr. Lee Blakeman is Principal Trombone of the Evansville (IN) Symphony Orchestra and Orchestra Kentucky of Bowling Green, Second/Assistant Principal Trombone of the Owensboro (KY) Symphony
Orchestra, Adjunct Instructor of Trombone at Western Kentucky University, and maintains a private studio.
Mr. Blakeman's Professional Warm-Up & Maintenance Book concisely covers  fundamental aspects of playing trombone that first warms-up the embouchure and then transitions into maintenance of necessary skills to successfully prepare solo, band and orchestral literature. From the Preface:
My desire to become a mature-sounding musician required me to gain greater control of the instrument and resulted in the particular sequence of exercises that follow.  I have found using this book on a daily basis keeps me prepared for the playing challenges I most often encounter while also maintaining a certain degree of endurance.  My approach to breathing, buzzing, tone development, range, flexibility and articulation through all registers are described at the beginning of each section.  I fully believe if you learn to navigate all the exercises you will expand and maintain your playing in a way that will leave you prepared for most challenges you will encounter as a trombonist.  Take the time to develop these fundamental skills.  They will enable you to more professionally prepare the most challenging literature.
Matthew Guilford – Bass Trombone
Bass trombonist Matthew Guilford began his musical training at the age of nine. His mother's love of the trombone sound, combined with a classified ad for a used King Cleveland Superior for $50 in the local
newspaper set the wheels in motion on his remarkable musical journey. By the age of 12, he was playing his first bass trombone—a Conn 62H, and was under the tutelage of bass trombonist/teacher Jerry Shaw.
In high school, Matthew was an honor student and athlete as well as a musician. A broken collarbone and fractured left arm were all the convincing he needed to give up football in favor of the bass trombone. Playing with the Boston Youth Symphony made him realize that he could achieve the same kind of endorphin rush from the back row of an orchestra that he used to get as a middle linebacker—only no broken bones.
Matthew turned down a four-year chancellor's scholarship at the University of Massachusetts at Amherst in favor of study at Boston University where he majored in music with a minor focus in Russian language. His studies with Norman Bolter began in his first year. As a B.U. student, Matthew worked closely with the Empire Brass Quintet and joined the Epic Brass Quintet as trombonist (playing the trombone part on bass trombone).
In his second year at B.U., he was the only bass trombonist in the school of music and knew he would need some competition in order to thrive, so he transferred across the city to the New England Conservatory at the start of his third year. The trombone studio at that time now reads like a Who's Who for the trombone world: Mark Fisher (Chicago Lyric Opera); Julie Josephson (NY freelance/soloist); David Ridge (San Francisco Opera); Paul Welcomer (San Francisco Symphony); Douglas Wright (Minnesota Orchestra) just to mention a few. Matthew's studies with Norman Bolter continued after his transfer to N.E.C.
By his senior year, the Boston Symphony had appointed Douglas Yeo as its new bass trombonist, and Matthew became his first student at N.E.C. Guilford received his bachelor's degree with distinction in performance in 1986. He continued his studies with Yeo as a graduate student in the fall of 1986. Matthew made his first appearance with the Boston Pops at the age of 21 and was soon the first call substitute for the Boston Symphony and Boston Pops. His freelance engagements included the Boston Ballet, Opera Company of Boston and the Boston Pops Esplanade Orchestra. Matthew graduated from N.E.C. with a master's degree in 1988 and was a student of John Swallow in his final year. In the summer following his graduation, he was a fellow at the Tanglewood Institute.
Guilford won his first orchestral position in the summer of 1989 at the age of 23 and was soon driving across the U.S. to begin his new job with the San Francisco Opera Orchestra. In addition to his duties with the S.F.O., he often performed with the San Francisco Symphony, recorded the motion picture soundtrack to Predator II at George Lucas' Skywalker Ranch and went on the road with a Broadway touring company of Les Miserables in the Pacific Northwest.
In the summer of 1991, at the age of 25, Matthew won the bass trombone audition for the National Symphony Orchestra and was hired by music director Mstislav Rostropovitch. He was soon on the faculties of the Catholic University of America and the University of Maryland at College Park. Several of his students have gone on to successful performing and teaching careers. As a much sought-after educator and clinician, Matthew has presented programs for the International Trombone Festival, The Eastern Trombone Workshop, and the National Orchestral Institute. He has given master classes and clinics at most of the top colleges, conservatories and universities both here in the U.S. and abroad.
In addition to the N.S.O., Guilford has performed with many of the top U.S. orchestras, including: the Baltimore Symphony; the Boston Symphony and Boston Pops; the Minnesota Orchestra; the New York Philharmonic; and the San Francisco Symphony. He has also performed with Chicago's Music of the Baroque, the Chicago Chamber Musicians and the Grand Teton Music Festival. He was a featured soloist with the N.S.O. in the spring of 2005, performing Chris Brubeck's Concerto for Bass Trombone and Orchestra with Marvin Hamlisch conducting. Guilford also performed the Brubeck Concerto with the N.S.O. at the U.S. Capitol for the annual Labor Day Concert, as well as the J.F. Kennedy Center for the Performing Arts Open House. He has also appeared as soloist with the Harvard University Band, the U.S. Army Band and U.S. Army Orchestra. A few other groups/solo artists he has performed with include: The Guarneri String Quartet; the Krakow (Poland) Philharmonic; and Diana Krall.
Jonas Thoms – Horn
Instructor, horn
Jonas Thoms is Instructor of Horn at Wright State University where he teaches applied horn, brass chamber music, and courses in music theory and music education. He performs in the resident faculty woodwind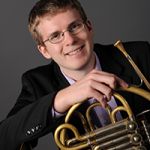 and brass quintets and with the WSU Chamber Orchestra. He has presented and performed at colleges throughout the country, including the University of Cincinnati-College Conservatory, Ball State University, the University of Alabama, and the University of Southern Mississippi, and is a frequent guest artist and clinician at high schools in the region. Thoms has published articles in the Triad, presented at the International Horn Symposium, and reviewed textbooks for W.W. Norton & Co. and Oxford University Press. Prior to WSU, he was on faculty at the University of Evansville and served as Principal Horn of the Evansville Philharmonic Orchestra. 
Currently a member of the Springfield Symphony Orchestra and Kentucky Symphony Orchestra, Thoms has previously held positions in the Richmond (IN) Symphony Orchestra, Owensboro Symphony Orchestra, Orchestra Kentucky-Bowling Green, and Glens Falls Symphony Orchestra. He regularly performs as a substitute or extra player with the Cincinnati Symphony and Pops Orchestra, Cincinnati Chamber Orchestra, Dayton Philharmonic Orchestra, Louisville Orchestra, Toledo Symphony Orchestra and numerous regional orchestras, often on principal horn. Additionally, he has performed with the Atlantic Classical Orchestra, Cincinnati Ballet Orchestra, Columbus Symphony Orchestra, concert:nova, Rochester Philharmonic Orchestra, Syracuse Symphony Orchestra/Symphony Syracuse, and Albany Symphony Orchestra. Twice he has been a finalist in the Coleman Chamber Music Competition and has performed as a soloist with the Evansville Philharmonic Orchestra and the Sinfonia Gulf Coast in Destin, Florida.
Thoms is a graduate from the Eastman School of Music (B.M.) and the University of Cincinnati-College Conservatory of Music (M.M), where he served as the graduate assistant to the horn studio of Randy Gardner. His primary teachers include W. Peter Kurau, Randy Gardner, Elizabeth Freimuth, Kristy Morrell, Tom Sherwood, and Roger Kaza. He is a member of the International Horn Society, National Association for Music Education, and American Federation of Musicians. He plays on horns built by Darin Sorley and Paxman.
Education History: 
Eastman School of Music, Bachelor of Music - Horn Performance
University of Cincinnati-College Conservatory of Music, Master of Music - Horn Performance
Professional Affiliations/Memberships: 
Gretchen McNamara – Trombone
Applied Trombone
Director of the Jazz Ensemble
Director of the University Trombone Ensemble
Dr. Gretchen McNamara is the trombone instructor at Wright State University in Dayton, Ohio, a position she has held since 2007. In addition to her responsibilities with the trombone studio, she also directs the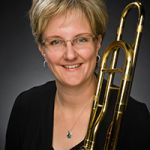 Wright State University Jazz Ensemble and teaches Instrumental Music Education classes. Dr. McNamara has presented clinics (2012 and 2013) and performed as a member of the Wright State University Faculty Brass Quintet (2009) and Wright State University Chamber Orchestra (2012) at the Ohio Music Educator's Association State Conference. She has been a featured artist/clinician at the Big 12 Trombone Conference in Lubbock, Texas (2013) and artist in residence at the BrassChix Festival at the University of St. Thomas (2010, 2011) Recently, she has served as the guest conductor of the OMEA District 12 Honor Symphonic Band (2014) and   served as an invited guest clinician/adjudicator for the Weekend of Jazz in Beavercreek, Ohio (2014). She has also been a featured soloist with the Kettering (Ohio) Civic Band, Wright State University Symphonic Band, Xavier University's Symphonic Winds (Ohio) and the Shoreline Concert Band (Washington). She has also performed with the Lima Symphony Orchestra (OH) and the Newark-Granville Symphony Orchestra (OH).  Outside of her position at Wright State University, Dr. McNamara serves on the Dayton Philharmonic Education Committee and writes CD Recording Reviews for the International Trombone Association. She also maintains a private trombone studio with students from the greater Dayton area. Dr. McNamara has served on the faculty of Xavier University and the University of Cincinnati, College-Conservatory of Music Preparatory Department. A native of Seattle, Washington Dr. McNamara has earned a Doctor of Musical Arts Degree from the University of Cincinnati, College-Conservatory of Music, a Master of Music degree from Kent State University, and a Bachelor of Music degree from the University of Washington. Before beginning the DMA, Dr. McNamara was the director of bands at Patapsco High School and Center for the Arts in Baltimore, Maryland. Her principle instructors include David Vining, JoDee Davis, Mathew Guilford and Stuart Dempster.
Vendors
Horn and Trombone Festival Vendors – Located in M162
McCutcheon Music – Dealer: Conn-Selmer
Mountain Peak Music – Publisher
Veritas Music – Publisher
Brad Edwards – Publisher
Schedule
Wright State University

Horn and Trombone Festivals Schedule

Monday, January 19, 2015

10:00 am – 8:00 pm

10:00 am – 11:00 am
Finals Round Festival Solo Competitions
Trombone, Schuster Hall
Horn, Recital Hall

11:00 am – 12:00 pm

Registration, Creative Arts Center Lobby
Vendors open, M162

11:45 am
Announcement of Solo Competition Winners, Schuster Hall
12:00 pm – 1:15 pm
Warm-up Session and Ensembles
Trombone, M152
Horn, M146
1:00 pm – 4:30 pm
Vendors open, M162
1:30 pm – 2:15 pm

Clinic Choice

"Higher & HIGHER: The Development of a Reliable Upper Register" with Lee Blakeman, M152

"Good Vibrations: Laying the Foundation" with Randy Gardner, M146

2:30 pm – 4:00 pm
Guest Artist Master Classes
Matt Guilford, trombone, Recital Hall
Roger Kaza, horn, Schuster Hall
4:30 pm
Solo Competition Winners and Horn and Trombone Festival Ensembles, Schuster Hall
5:30 pm
Dinner Break (area restaurants)
6:30 pm
Matt Guilford and Roger Kaza Recital, Schuster Hall