The Wright State University Double Reed Festival is an event that brings together double reed players from throughout Southwestern and Central Ohio. The conference is a full day of new ideas and exchanges of knowledge geared towards the needs and interests of high school students, private studio teachers, and amateur double reed players. The day will include:
Classes covering concepts of performing, reed adjustment, the English horn and contrabassoon, and literature with separate offerings for students and adults.
The WSU Double Reed Festival is for high school and college students, amateur and professional players, and private studio teachers
Cost of the event is $35 This covers all masterclasses, recitals, and events of the day.
Everyone should bring an instrument and participate in the clinics and workshops.
All festival events will take place on the campus of Wright State University at the Creative Arts Center.
All participants under the age of 18 must submit a Medical Form (PDF)
Cost of the event is $35 This covers:
Registration fee
All masterclasses, recitals and events
Festival t-shirt
NOTE: in order to receive a T-shirt, you must register by November 16, 2015.
Workshop Presenters
Trade Winds Quintet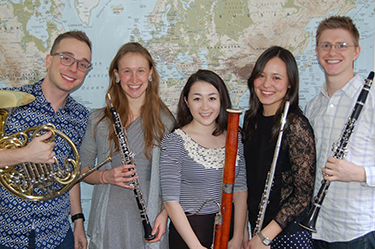 Formed in New York in 2012, Trade Winds features flutist Christina Hughes, oboist Ellen Hindson, clarinetist Brian Gnojek, bassoonist Midori Samson, and French hornist Nicholas Walls. The ensemble travelled to Kenya in 2013 to volunteer and present 3 weeks of accessible music performances and workshops across Nairobi. Trade Winds is built on these members' belief in the power music education has to build necessary qualities in children, like self-confidence, curiosity, and expression, as well as skills in collaboration and communication. 
Trade Winds partnered with a variety of institutions in Nairobi. They gave beginning art classes in primary schools, instrumental coachings with youth ensembles like the National Youth Orchestra of Kenya, interactive community concerts, and collaborative performances with local artists, including a featured performance of W.A. Mozart's Sinfonia Concertante with the Nairobi Orchestra. In total, their pilot residency included programs in six schools, and ten performances. Built out of concepts including Expression, Community, and Individuality, their workshops aim to teach students to understand how these things relate to art and how they can use music in their lives. Most importantly, Trade Winds' goal is to continue to learn from their partners, and constantly grow as artists and citizens.
Trade Winds will continue their work in December 2015 during another residency, continuing to work with their established partners in Kenya. This upcoming trip will also include an expansion of their work to neighboring Tanzania, where they will begin new partnerships and workshops. In both countries, Trade Winds will work toward creating sustainable music programs, and connecting local musicians to outreach opportunities, all while striving to address the true needs of their students. 
Sponsored Artists with the New York non-profit The Field, Trade Winds is sponsored by grants, crowd funding, and private donations. To donate and to learn more, go to TradeWindsQuintet.org. 
 
Bill Jobert

Bill Jobert is now in his 10th year at Wright State where he serves as Lecturer of Bassoon and Coordinator of Music Education.
Jobert received his master's degree in Bassoon Performance and Literature from the Eastman School of Music and his major teachers include Bill Davis, John Hunt, Loren Glickman and Carl Niche. Jobert performs in the Faculty Woodwind Quintet and with the University Chamber Orchestra as well as presenting a faculty solo recital each year. Over the past six years he has commissioned and premiered works by composers Michael Issacson, Steve Winteregg, Carlos Carrillos, Christopher Weait, and Robert Broemel on his faculty recitals and at the IDRS conference. He has also been involved in video recording projects aimed at bringing new music and composers to a wider audience.  Currently Jobert is working with several other bassoon professionals to record all of the OMEA bassoon trios so that young bassoonists and music teachers can have a resource for selecting and preparing these pieces.  Jobert served for several years as principal bassoonist and personnel manager in the Lebanon Symphony Orchestra and is on the sub list for the Dayton Philharmonic, Hamilton-Fairfield Symphony, and the Middletown Symphony Orchestra.
Jobert received his bachelor's degree is in Music Education from the University of Georgia and student taught at Lassiter High School under Alfred Watkins. He taught for over 12 years in public school, directing bands at the middle and high school levels and building award winning instrumental programs in upstate New York and Raleigh, North Carolina. Jobert has worked on the marching band staff at Mason high school and Lebanon high school and has served as a woodwind adjudicator for OMEA and the woodwind editor for the Triad Magazine.   He has also served as a band and orchestra adjudicator for Showcase Music Festivals and at the Alberta Band Association Concert Band Festival in Canada.  At Wright State Jobert serves as the Coordinator of Music Education, teaches education pedagogy courses, and in 2008 was awarded Wright State's Outstanding Instructor Award.
Recently  Jobert served as the National Scoring Supervisor for edTPA Performing Arts and worked with the SCALE team at Stanford University to develop the rubrics and scorer training modules. He does state and national presentations and has published several articles on edTPA.
Currently Jobert maintains a large high school and middle school bassoon studio with students from Mason, Sycamore, Lakota East, and Kings and is one of the double reed instructors at the Double or Nothing Double Reed Camp.
Outside of all of that Jobert manages to make time for his family and to read a book or two. He is a huge Stephen King fan, having read almost everything published by the master of the macabre Careful to never go as far as to say that he is King's number one fan, as that would just be farmhouse-in-the-middle-of-the-woods creepy, Jobert would be amazed to meet King someday. Other authors he enjoys include Joe Hill, Tobias Wolf, and DJ Molles, and Neil Gaiman.
Katherine L. deGruchy

Katherine, a native of Dayton, Ohio, received her Bachelors and Masters in Music Performance from the Cleveland Institute of Music where she studied with the renowned oboist John Mack of the Cleveland Orchestra.  She lived in Mexico City for 17 years where she played oboe and English horn with the Mexico City Philharmonic and other orchestras.   Katherine performed the Mexican debuts of the Persichetti Concerto for English horn and the Honegger Concerto for English horn and Flute with the Mexico City Philharmonic. She also was a member of the award-winning octet Sinfonietta Ventus which recorded on the Urtext label and toured Mexico and the US including a concert in the Carnegie Hall recital hall in New York City.   She returned to the Dayton area in 2005 and has continued her performing career in the Middletown Symphony Orchestra, the Clermont Symphony, the Lebanon Symphony and subbing frequently with the Dayton Philharmonic Orchestra. Katherine has played Dayton performances of the Broadway shows "Wicked" (three times) and "Mary Poppins"  In 2006 she helped create the Burning River Winds with her husband John. The Burning River Winds were featured as guest artists at the 2012 IDRS Annual Conference and have performed at the Dayton Art Institute, the Hayner Cultural Center and Hamilton Fairfield.  She also is an active member of the International Double Reed Society.  In addition to being the Adjunct Instructor, Applied Oboe at Wright State University, Katherine also teaches oboe to younger students in several local schools. 
Midori Samson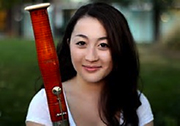 Midori Samson is a bassoonist, educator, and advocate for the arts. She has performed as principal bassoonist with several orchestras in the New York area including the Juilliard Orchestra, New York String Orchestra, Norwalk Symphony, and Ensemble 212, as well as at the National Orchestral Institute, and the Pacific Music Festival in Japan. As a chamber musician, she has performed at Juilliard's ChamberFest, the Banff Centre in Canada, and the Norfolk and Bowdoin International music festivals. She recently appeared as a soloist with the Nairobi Orchestra when members of her quintet were featured in a performance of Mozart's Sinfonia Concertante. She also appeared with Oregon's Metropolitan Youth Symphony as their concerto competition winner, and was selected as a finalist in competitions with the Vancouver Symphony and Brevard Music Center.
Outside of performing, Midori is deeply passionate about outreach and teaching. For two years, she was a Gluck Community Service Fellow, giving regular interactive performances at healthcare facilities throughout New York City, and did similar work as a member of Rayos de Cancion in orphanages in Guatemala. As a Morse Teaching Artist at Juilliard, she taught 2nd grade music at The William T Harris School in Manhattan. She continues to volunteer with children across the world through organizations including Artists Striving to End Poverty, the Juilliard New Orleans Service Project, and Project Philippines. This work inspired her to co-found Trade Winds, a woodwind quintet that is committed to encouraging children to express themselves through music. As a result of her equal commitment to music and arts advocacy, Midori was the 2014 recipient of the Joseph W. Polisi Prize for exemplifying the values of the "Artist as Citizen".
Ellen Hindson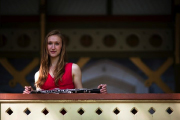 Ellen Hindson fell in love with the sound of the oboe as a young girl in La Crosse, Wisconsin where she heard her first teacher play in the local symphony orchestra.  Ellen earned her Bachelor of Music in oboe performance at the University of Minnesota, where she studied with John Snow, Associate Principal Oboe with the Minnesota Orchestra.  Ellen graduated from the University of Minnesota in 2011, and moved to New York City to pursue her Masters at Mannes College.  Since arriving in New York, she has performed in venues ranging from Lincoln Center's Alice Tully Hall and Carnegie Hall to Brooklyn cafes, seeking to share music with as wide-ranging audiences as possible.  She has had the honor of playing in masterclasses for Alex Klein, Elaine Douvas and Liang Wang, and participates in orchestral and chamber music festivals in the United States and abroad.  At the 2011 Round Top Festival, her woodwind quintet performed on the "Best of Round Top" honors chamber music recital.  Passionate about teaching, Ellen began to work with the Mannes Preparatory Division in September 2011 in addition to teaching private oboe lessons.  Ellen currently studies with Sherry Sylar, Associate Principal Oboe with the New York Philharmonic.
Robin Dixon Costa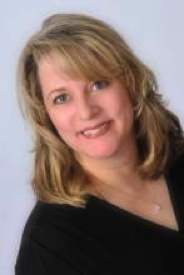 Robin Dixon Costa is a professional oboist and English horn player who performs regularly with the Dayton Philharmonic and Columbus Symphony.  She is also a certified Alexander Technique specialist.  Her workshop at the Double Reed  Festival will make oboe and bassoon players more aware of how they sit and breath and balance themselves to get the maximum benefit  from their playing.
Robert Jordan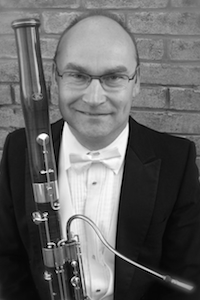 Dr. Robert D. Jordan, served as a bassoonist with the United States Air Force Bands for over twenty years. In that capacity, he presented recitals, master classes, and was a frequently featured soloist on tours throughout the United States and Europe. He is a recipient of the prestigious Colonel Findlay R. Hamilton Outstanding Military Musician Award, the highest award amongst all military musicians. He is a former Airman of the Year, Non Commissioned Officer of the Year, and Air Force Sergeants Association Bandsman of the Year. As an orchestral musician, he has performed with the Atlanta, Baton Rouge, Columbus, Dayton Philharmonic, Fox Valley, Greenville, Macon, Milwaukee, Opera Columbus, Plymouth, Saint Louis Philharmonic, Savannah, Springfield, Waukesha, and West Virginia Symphony Orchestras among others. 
Dr. Jordan holds degrees from Louisiana State University, the University of Michigan, The Ohio State University and a Performer's Certificate from UW-Milwaukee Institute of Chamber Music. A sought after teacher, professor, and chamber music coach, his teaching appointments have included the University of Dayton, Denison University, Heidelberg College, The Ohio State University, Tiffin University, University of Wisconsin Milwaukee, Sinclair Community College, and presently at McKendree University, Missouri Baptist University, Southern Illinois University Edwardsville, Southwest Illinois College, and Southern Illinois University Carbondale. 
An avid and active chamber musician, Dr. Jordan was a five-time semifinalist in the Fischoff Chamber Music Competition and a two-time winner in the Milwaukee Civic Music Association Competition. Two of the chamber ensembles of which he was a member won grants from the National Endowment of the Arts. He currently performs as a member of the Washington Street Trio, which includes clarinetist and McKendree University Professor Mary Nan Jordan, and the pianist, Southern Illinois University Edwardsville Professor Emeritus, Stephen Brown. 
For five years, he served as Vice President and competition chair of Chamber Music Yellow Springs. He has also judged at the Southern Illinois Young Artist Competition and the Bowling Green State University Bassoon Solo Competition. He has commissioned and premiered works by Daniel Baldwin, Stephen Brown, Bill Douglas, Andrew Callo, David Campo, Damian Montano, David Ott, Dean Smith, James M. Stephenson, and Arthur Weisberg, and has presented at the 2009, 2010, 2012, 2013, and 2014 International Double Reed Society Conferences as well as the 2012 ClarinetFest.
Dr. Jordan's teachers include many of the leading bassoon pedagogues of the twentieth and twenty first century- L. Hugh Cooper, James Keyes, William Ludwig, John Patterson, Robert Thompson, Christopher Weait, and Robert Williams. He also studied with Leonard Hindell, K. David Van Hoesen, Stephen Maxym, John Miller, Sol Schoenbach, Milan Turkovic', Charles Ullery, Arthur Weisberg, and William Winstead.
Additionally, Dr. Jordan is the CEO of Weisberg Systems, LLC where he coordinates the further development of innovations for bassoon inspired by Arthur Weisberg. He has given lectures on bassoon acoustics at several International Double Reed Conferences and at numerous universities throughout the United States.
John deGruchy
John is a native of Long Island, N.Y. He holds a Bachelor of Music degree from the Cleveland Institute of Music, where he studied under Cleveland Orchestra principal bassoonist George Goslee. He has also earned a Masters of Music from Rice University, studying under of Benjamin Kamins. John served as Second Bassoon in the Cincinnati Chamber Orchestra from 1988-1996. He has also performed extensively throughout southwest Ohio and the Midwest, including with the Cincinnati Opera and Ballet, The Springfield Symphony, The West Virginia Symphony, and the Whitewater Opera Company. Most recently, John has performed as principal bassoon with the Lima Symphony, the Middletown Symphony, and also the Hamilton – Fairfield Symphony. John and his wife Katherine were featured as guest artists at the 2012 IDRS Annual Conference.
He also is the bassoon instructor at the Stivers School for the Arts and is a professional bassoon reed maker for Double or Nothing Reeds.
Recitals and Performances
WSU Double Reed Ensembles
Trade Winds Quintet
Burning River Trio
Prestige Clarinet Quartet
Vendors
Vendors will be on site with instruments to try, and music and supplies to purchase.
Are you a vendor and would like to have a display? Fill out the Vendor Application form.
Schedule
Double Reed Festival Events
Saturday, November 21, 2015
8:30 – 8:50 am      Registration                                                                                                                                 Commons
9:00 – 9:30 am      Donald Sinta Quartet Recital(high school bassoons and oboes)                                             Schuster Hall
                               Masterclass with John DeGruchy (adult bassons)                                                                       M259
                               Time with Vendors (adult oboes)
9:30 – 10:00 am    Trade Winds Quintet; Music with Purpose (high school bassoons and oboes)                       Recital Hall
                               Masterclass with John DeGruchy (adult bassons)                                                                     M259
                               Time with Vendors (adult oboes)
10:00-10:30 am    Masterclass with Ellen Hinson (oboes)                                                                                       M146
                              Time with Vendors (bassoons)
10:30-11:30 am   Masterclass with Midori Samson (high school bassoons)                                                           M152
                             Masterclass with Robert Jordon (adult bassoons)                                                                       M259
11:30-12:00pm   WSU Faculty Recital                                                                                                                 Schuster Hall
Noon – 1:15        LUNCH & Vendor Time The Hanger
 
1:15 – 2:15 pm    Masterclass with Ellen Hindson (adult oboes)                                                                         Recital Hall
                             Masterclass with Kathy DeGruchy (high school oboes)                                                              M146
                             Masterclass with Bill Jobert (high school bassoons)                                                                   M152
                             Masterclass with Midori Samson (adult bassoons)                                                                      M259
2:30-3:30 pm      Alexander Technique                                                                                                                    M162 
3:30  - 4:00 pm   Vendor Time                                                                                                                              Commons
4:00 – 5:00 pm    Oboe, Clarinet, Bassoon Recital                                                                                               Recital Hall
5:30 – 6:30 pm    Artist Series Concert                                                                                                                 Schuster Hall
See you next year on Saturday, November 19, 2016