The Wright State University Double Reed Festival is an event that brings together double reed players from throughout Southwestern and Central Ohio. The conference is a full day of new ideas and exchanges of knowledge geared towards the needs and interests of high school students, private studio teachers, and amateur double reed players. The day will include:
Classes covering concepts of performing, reed adjustment, the English horn and contrabassoon, and literature with separate offerings for students and adults.
The WSU Double Reed Festival is for high school and college students, amateur and professional players, and private studio teachers
Cost of the event is $35 This covers all masterclasses, recitals, and events of the day.
Everyone should bring an instrument and participate in the clinics and workshops.
All festival events will take place on the campus of Wright State University at the Creative Arts Center.
All participants under the age of 18 must submit a Medical Form (PDF)
Cost of the event is $35 This covers:
Registration fee
All masterclasses, recitals and events
Festival t-shirt
NOTE: in order to receive a T-shirt, you must register by November 16, 2015.
Workshop Presenters
Trade Winds Quintet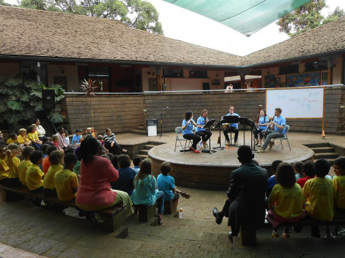 During the Wright State Double Reed Festival students will have the opportunity to hear Trade Winds perform in addition to working with bassoonist Midori Samson and oboist Ellan Hindson and talking to the group about the work they do bringing music to students and schools in Africa.
Founded in May 2012, Trade Winds is a woodwind quintet made up of young professional musicians who are committed to outreach and teaching. The musicians of Trade Winds are oboist Ellen Hindson, flutist Christina Hughes, clarinetist Brian Gnojek, bassoonist Midori Samson, and hornist Nicholas Walls. They are inspired by the power music has to build self-confidence and communication skills in young people.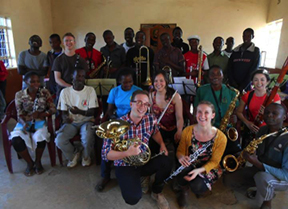 By providing music classes for students who do not usually have access to arts education, Trade Winds aims to encourage musical creativity with the youth of East Africa. In this way, they hope to show that music can be a means of self-expression, a tool for social change, and a way of life. The group began offering free workshops during a three week residency in Kenya in the summer of 2013 and has since been returning to Africa to perform and work with communities and schools.
During these residencies, Trade Winds partners with three institutions in Nairobi, Kenya: The Art of Music Foundation, The Barbara Jasinska Rise and Shine Academy, and The GoDown Arts Centre. They perform side-by-side concerts with the Nairobi Orchestra, perform for communities, and perform and teach at schools.   Trade Winds aims to share their knowledge of music while learning from their collaborators in East Africa.
Bill Jobert

Bill Jobert is the bassoon instructor at Wright State University.  He and Dan Duncan will team up for a performance masterclass on OMEA solos. Bill Jobert's Homepage
Katherine L. deGruchy

Kathy deGruchy is the oboe instructor at Wright State University and will be presenting beginning and advanced masterclasses entitled "Bubbles and Barret." In this master class Katherine deGruchy will discuss concepts of how the use of a musician's airstream can help shape musical phrases. Katherine deGruchy's Homepage
Midori Samson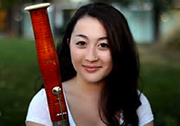 Midori Samson is a bassoonist, educator, and advocate for the arts. She has performed as principal bassoonist with several orchestras in the New York area including the Juilliard Orchestra, New York String Orchestra, Norwalk Symphony, and Ensemble 212, as well as at the National Orchestral Institute, and the Pacific Music Festival in Japan. As a chamber musician, she has performed at Juilliard's ChamberFest, the Banff Centre in Canada, and the Norfolk and Bowdoin International music festivals. She recently appeared as a soloist with the Nairobi Orchestra when members of her quintet were featured in a performance of Mozart's Sinfonia Concertante. She also appeared with Oregon's Metropolitan Youth Symphony as their concerto competition winner, and was selected as a finalist in competitions with the Vancouver Symphony and Brevard Music Center.
Outside of performing, Midori is deeply passionate about outreach and teaching. For two years, she was a Gluck Community Service Fellow, giving regular interactive performances at healthcare facilities throughout New York City, and did similar work as a member of Rayos de Cancion in orphanages in Guatemala. As a Morse Teaching Artist at Juilliard, she taught 2nd grade music at The William T Harris School in Manhattan. She continues to volunteer with children across the world through organizations including Artists Striving to End Poverty, the Juilliard New Orleans Service Project, and Project Philippines. This work inspired her to co-found Trade Winds, a woodwind quintet that is committed to encouraging children to express themselves through music. As a result of her equal commitment to music and arts advocacy, Midori was the 2014 recipient of the Joseph W. Polisi Prize for exemplifying the values of the "Artist as Citizen".
Ellen Hindson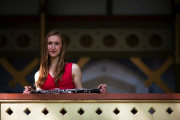 Ellen Hindson fell in love with the sound of the oboe as a young girl in La Crosse, Wisconsin where she heard her first teacher play in the local symphony orchestra.  Ellen earned her Bachelor of Music in oboe performance at the University of Minnesota, where she studied with John Snow, Associate Principal Oboe with the Minnesota Orchestra.  Ellen graduated from the University of Minnesota in 2011, and moved to New York City to pursue her Masters at Mannes College.  Since arriving in New York, she has performed in venues ranging from Lincoln Center's Alice Tully Hall and Carnegie Hall to Brooklyn cafes, seeking to share music with as wide-ranging audiences as possible.  She has had the honor of playing in masterclasses for Alex Klein, Elaine Douvas and Liang Wang, and participates in orchestral and chamber music festivals in the United States and abroad.  At the 2011 Round Top Festival, her woodwind quintet performed on the "Best of Round Top" honors chamber music recital.  Passionate about teaching, Ellen began to work with the Mannes Preparatory Division in September 2011 in addition to teaching private oboe lessons.  Ellen currently studies with Sherry Sylar, Associate Principal Oboe with the New York Philharmonic.
Robin Dixon Costa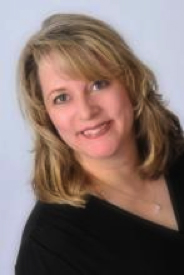 Robin Dixon Costa is a professional oboist and English horn player who performs regularly with the Dayton Philharmonic and Columbus Symphony.  She is also a certified Alexander Technique specialist.  Her workshop at the Double Reed  Festival will make oboe and bassoon players more aware of how they sit and breath and balance themselves to get the maximum benefit  from their playing.
Recitals and Performances
WSU Double Reed Ensembles
Trade Winds Quintet
Burning River Trio
Prestige Clarinet Quartet
Vendors
Vendors will be on site with instruments to try, and music and supplies to purchase.
Are you a vendor and would like to have a display? Fill out the Vendor Application form (PDF).
Schedule
Student Bassoons
College & Adult Bassoons