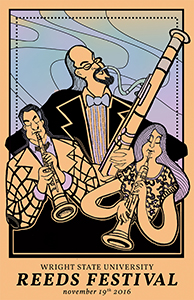 The Wright State University Double Reed Festival is an event that brings together double reed players from throughout Southwestern and Central Ohio. The conference is a full day of new ideas and exchanges of knowledge geared towards the needs and interests of high school students, private studio teachers, and amateur double reed players. The day will include:
Classes covering concepts of performing, reed adjustment, the English horn and contrabassoon, and literature with separate offerings for students and adults.
The WSU Double Reed Festival is for high school and college students, amateur and professional players, and private studio teachers
Cost of the event is $35 This covers all masterclasses, recitals, and events of the day.
Everyone should bring an instrument and participate in the clinics and workshops.
All festival events will take place on the campus of Wright State University at the Creative Arts Center.
All participants under the age of 18 must submit a Medical Form (PDF)
Cost of the event is $35 This covers:
Registration fee
All masterclasses, recitals and events
Festival t-shirt
NOTE: in order to receive a T-shirt, you must register by November 14, 2016.
Workshop Presenters
Bill Jobert

Bill Jobert is now in his 10th year at Wright State where he serves as Lecturer of Bassoon and Coordinator of Music Education.
Jobert received his master's degree in Bassoon Performance and Literature from the Eastman School of Music and his major teachers include Bill Davis, John Hunt, Loren Glickman and Carl Niche. Jobert performs in the Faculty Woodwind Quintet and with the University Chamber Orchestra as well as presenting a faculty solo recital each year. Over the past six years he has commissioned and premiered works by composers Michael Issacson, Steve Winteregg, Carlos Carrillos, Christopher Weait, and Robert Broemel on his faculty recitals and at the IDRS conference. He has also been involved in video recording projects aimed at bringing new music and composers to a wider audience.  Currently Jobert is working with several other bassoon professionals to record all of the OMEA bassoon trios so that young bassoonists and music teachers can have a resource for selecting and preparing these pieces.  Jobert served for several years as principal bassoonist and personnel manager in the Lebanon Symphony Orchestra and is on the sub list for the Dayton Philharmonic, Hamilton-Fairfield Symphony, and the Middletown Symphony Orchestra.
Jobert received his bachelor's degree is in Music Education from the University of Georgia and student taught at Lassiter High School under Alfred Watkins. He taught for over 12 years in public school, directing bands at the middle and high school levels and building award winning instrumental programs in upstate New York and Raleigh, North Carolina. Jobert has worked on the marching band staff at Mason high school and Lebanon high school and has served as a woodwind adjudicator for OMEA and the woodwind editor for the Triad Magazine.   He has also served as a band and orchestra adjudicator for Showcase Music Festivals and at the Alberta Band Association Concert Band Festival in Canada.  At Wright State Jobert serves as the Coordinator of Music Education, teaches education pedagogy courses, and in 2008 was awarded Wright State's Outstanding Instructor Award.
Recently  Jobert served as the National Scoring Supervisor for edTPA Performing Arts and worked with the SCALE team at Stanford University to develop the rubrics and scorer training modules. He does state and national presentations and has published several articles on edTPA.
Currently Jobert maintains a large high school and middle school bassoon studio with students from Mason, Sycamore, Lakota East, and Kings and is one of the double reed instructors at the Double or Nothing Double Reed Camp.
Outside of all of that Jobert manages to make time for his family and to read a book or two. He is a huge Stephen King fan, having read almost everything published by the master of the macabre Careful to never go as far as to say that he is King's number one fan, as that would just be farmhouse-in-the-middle-of-the-woods creepy, Jobert would be amazed to meet King someday. Other authors he enjoys include Joe Hill, Tobias Wolf, and DJ Molles, and Neil Gaiman.
Katherine L. deGruchy

Katherine, a native of Dayton, Ohio, received her Bachelors and Masters in Music Performance from the Cleveland Institute of Music where she studied with the renowned oboist John Mack of the Cleveland Orchestra.  She lived in Mexico City for 17 years where she played oboe and English horn with the Mexico City Philharmonic and other orchestras.   Katherine performed the Mexican debuts of the Persichetti Concerto for English horn and the Honegger Concerto for English horn and Flute with the Mexico City Philharmonic. She also was a member of the award-winning octet Sinfonietta Ventus which recorded on the Urtext label and toured Mexico and the US including a concert in the Carnegie Hall recital hall in New York City.   She returned to the Dayton area in 2005 and has continued her performing career in the Middletown Symphony Orchestra, the Clermont Symphony, the Lebanon Symphony and subbing frequently with the Dayton Philharmonic Orchestra. Katherine has played Dayton performances of the Broadway shows "Wicked" (three times) and "Mary Poppins"  In 2006 she helped create the Burning River Winds with her husband John. The Burning River Winds were featured as guest artists at the 2012 IDRS Annual Conference and have performed at the Dayton Art Institute, the Hayner Cultural Center and Hamilton Fairfield.  She also is an active member of the International Double Reed Society.  In addition to being the Adjunct Instructor, Applied Oboe at Wright State University, Katherine also teaches oboe to younger students in several local schools. 
Marty Garcia

Martin Garcia is the associate principal bassoonist of The Cincinnati Symphony. He was previously a member of The Chamber Orchestra of Philadelphia and The Milwaukee Symphony, and has appeared frequently as a substitute with The Philadelphia Orchestra. Mr. Garcia has also concertized and toured with The Knights Chamber Orchestra (NYC), and has made appearances at the Evian, Marlboro, Verbier, Lakes Area (MN) and Wien Moderne festivals. A recipient of a Fulbright fellowship to study in Austria, he is a graduate of The Curtis Institute of Music and The University of Cincinnati College-Conservatory of Music. He has served as faculty for the pre-collegiate Summerfest at The Curtis Institute and as visiting faculty at The University of Cincinnati. His principal teachers were Bernard Garfield, Milan Turkovic, and William Winstead; additionally, he has pursued advanced study with Daniel Matsukawa of The Philadelphia Orchestra.
Dwight Parry

 Dwight Parry principal oboist of the Cincinnati Symphony Orchestra and is Adjunct Faculty in oboe at the Cincinnati College-Conservatory of Music. Previously, was the principal oboist of the San Diego Symphony and was a fellow with the New World Symphony. He has performed as guest principal oboist with groups including the New York Philharmonic, the Chicago Symphony, the San Francisco Symphony, the Atlanta Symphony, the Los Angeles Opera, and the Deutsche Symphonie of Berlin. Originally from coastal Southern California, he found his passion for music studying piano, voice, and jazz saxophone. It was not until late in high school, however, that he began playing the oboe and truly found his calling.  He studied at the Cleveland Institute of Music with John Mack and at the University of Southern California with Allan Vogel and David Weiss, a gentleman who also taught him to surf.
Mr. Parry performs and teaches internationally with concertos, recitals, masterclasses, and chamber music.  Past appearances have featured the works of Mozart, Goossens, Haydn, Bach, Strauss, Vivaldi, Albinoni, Barber, and Marcello.  He was recently the featured soloist in Mexico City for Vaughn-Williams' wonderful concerto for oboe.  This season, he will be the soloist for The Flower Clock by Jean Francaix with the Ohio Valley Symphony.  He will also perform the Strauss Oboe Concerto for his third subscription solo appearance with the Cincinnati Symphony.  In addition to his position at CCM, Mr. Parry is Adjunct Faculty at Northern Kentucky University.  He also teaches privately and gives masterclasses at schools and festivals throughout the year.
When he's not holding an oboe, you'll often find Mr. Parry in the audience for local concerts and plays, including broadway, jazz, and bluegrass as well as opera and symphony performances.  He spends the rest of his time hiking, running, volunteering, tossing frisbees, reading and creating curiosities in the kitchen.
Mr. Parry is a Loreé artist and performs exclusively on Loreé oboes.
Recitals and Performances
WSU Double Reed Ensembles
Burning River Trio
Robert Jordon
Dwight Parry
Dan Duncan
Marty Garcia
Julia Siciliano
WSU Faculty Woodwind Quintet
Vendors
Vendors will be on site with instruments to try, and music and supplies to purchase.
Are you a vendor and would like to have a display? Fill out the Vendor Application form.
Schedule
Bassoon Schedule
HS Bassoons                                                                                 College Bassoons
9:00-9:30 Marty Garcia, Masterclass              M162                     Visit vendors                                   CAC Lobby
9:30-10:00
10:00-10:30 Visit Vendors                              CAC Lobby            Marty Garcia, Masterclass              M162
10:30-11:00 Double Reed Band Rehearsal    M162
11:00-11:30 Guest Artist Recital                     Schuster Hall        Guest Artist Recital                         Schuster Hall
11:30-12:00
12:00-12:30 Lunch                                          The Hangar           Lunch                                               The Hangar
12:30-1:00
1:00-1:30 Dan Duncan, Masterclass               M162                    Dan Duncan, Masterclass               M162
1:30-2:00
2:00-2:30 Double Reed Band Rehearsal        M162                    Visit Vendors                                   CAC Lobby
2:30-3:00
3:00-3:30 Visit Vendors                                   CAC Lobby          Visit Vendors                                   CAC Lobby
3:30-4:00 Festival Recital                                Schuster Hall       Festival Recital                                Schuster Hall
4:00-4:30
Oboe Schedule
HS Oboes                                                                                     College Oboes
9:00-9:30 Dwight Parry Masterclass                M344                    Dwight Parry Masterclass              M344
9:30-10:00
10:00-10:30
10:30-11:00 Double Reed Band Rehearsal     M162                    Visit Vendors                                CAC Lobby
11:00-11:30 Guest Artist Recital                      Schuster Hall        Guest Artist Recital                      Schuster Hall
11:30-12:00
12:00-12:30 Lunch                                           The Hangar          Lunch                                           The Hangar
12:30-1:00
1:00-1:30 deGruchy Reed Class                      M344                    deGruchy Reed Class                 M344
1:30-2:00
2:00-2:30 Double Reed Band Rehearsal         M162                   Double Reed Band Rehearsal      M162
2:30-3:00
3:00-3:30 Visit Vendors                                   CAC Lobby           Visit Vendors                                CAC Lobby
3:30-4:00 Festival Recital                                Schuster Hall        Festival Recital                             Schuster Hall