The Wright State University Double Reed Festival is an event that brings together double reed players from throughout Southwestern and Central Ohio. The conference is a full day of new ideas and exchanges of knowledge geared towards the needs and interests of high school students, private studio teachers, and amateur double reed players. The day will include:
Classes covering concepts of performing, reed adjustment, the English horn and contrabassoon, and literature with separate offerings for students and adults.
The WSU Double Reed Festival is for high school and college students, amateur and professional players, and private studio teachers
Cost of the event is $35 This covers all masterclasses, recitals, and events of the day.
Everyone should bring an instrument and participate in the clinics and workshops.
All festival events will take place on the campus of Wright State University at the Creative Arts Center.
All participants under the age of 18 must submit a Medical Form (PDF)
Cost of the event is $35 This covers:
Registration fee
All masterclasses, recitals and events
On-site lunch
Festival t-shirt
NOTE: in order to receive a T-shirt and lunch, you must register by November 18, 2013.
Workshop Presenters
Akropolis Reed Quintet

Founded in 2009 and winners of five national chamber music prizes including a Fischoff Silver Medal and Grand Prize at both the Plowman and MTNA competitions, Akropolis is a cutting edge ensemble which performs an innovative, living repertoire with acclaimed precision, offering concert programs designed to highlight trends in modern composition through the lens of classical masters spanning four centuries. Akropolis' initiatives have resulted in over 20 new works, the release of the first ever album of entirely original reed quintet music, the production of a YouTube series of world premieres and new arrangements, and the continued growth of a sheet music catalog called Akropolis Collection. Making history in 2013, Akropolis organized the first ever Reed Quintet Consortium of 12 ensembles from 3 continents.
Bill Jobert

Bill Jobert is the bassoon instructor at Wright State University.  He and Dan Duncan will team up for a performance masterclass on OMEA solos. Bill Jobert's Homepage
Katherine L. deGruchy

Kathy deGruchy is the oboe instructor at Wright State University and will be presenting beginning and advanced masterclasses entitled "Bubbles and Barret." In this master class Katherine deGruchy will discuss concepts of how the use of a musician's airstream can help shape musical phrases. Katherine deGruchy's Homepage
Timothy Gocklin

Known for his sensitive, colorful and engaging performances, Timothy Gocklin shares his passion for music through his deep love for the oboe. Tim's relationship with the oboe began at age 11, the day after attending a military band concert featuring the oboe when his mother expressed how much she loved the instrument. Since then, he has gone on to perform with some of the world's leading artists, including Yo-Yo Ma and Richard Stolzman.
Outisde of Akropolis, Tim performs chamber music in a wide variety of settings. This past spring, Tim was invited to perform Hindemith's Die Serenaden as part of the Yale in New York series at Carnegie's Weill Recital Hall. He has also participated in the Sarasota and Norfolk Chamber Music Festivals. As a fellow of the Norfolk Chamber Music Festival this past summer, Tim had the privilege of working with Carol Wincenc and William Purvis in a performance of Charles Gounod's Petite Symphonie and Emile Bernard's Divertissement. In addition, Tim spent the summer of 2012 as a member of the Interlochen Ensemble, a quintet-in-residence at the Interlochen Arts Camp performing around the state of Michigan.
In addition to Tim's active career as a chamber musician, he has also been fortunate to have opportunities performing as a soloist. In 2009, Tim was announced winner of the inaugural U.S. President's Own "Marine Band" Concerto Competition, and as a result performed Haydn's Oboe Concerto with the ensemble at the MTNA national conference in Milwaukee, WI. A few months earlier Tim was invited to perform Bach's Concerto for Violin and Oboe in C minor as a guest soloist with the Nashua Chamber Orchestra.
Tim can be heard on the NAXOS and Block M record labels and has participated in other recording projects, including two albums with the University of Michigan Symphony Band in 2010 and 2012, the second of which featured new works for wind ensemble under the direction of Michael Haithcock. These works were taken on a tour to China where the band performed 9 concerts in 6 cities, including at Beijing's National Centre for the Arts and Shanghai's Grand Theatre. In 2011, he recorded the three piano concerti of Alberto Ginastera with pianist Barbara Nissman and the University of Michigan Symphony Orchestra. 
In 2012, Tim received his Bachelors degree summa cum laude from the University of Michigan where he spent four fulfilling years studying with Dr. Nancy Ambrose King whose recording of the Vaughan Williams Oboe Concerto inspired him while learning the piece in 8th grade. Currently, he is at Yale University pursuing his Master of Music degree with Stephen Taylor. When not playing the oboe or widdling away at his reeds, Tim can be found relaxing in a coffee shop with a journal and pencil on one side and a hot, robust cup of coffee on the other.
Ryan Reynolds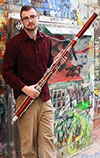 Ryan Reynolds chose the bassoon in 5th grade under the impression that it produced only one note and would therefore be the easiest instrument to play. His disappointment upon discovering three and a half octaves of notes quickly turned to fascination and intrigue, with the "gorgonzola of the orchestra" providing daily mysteries and rewards.
Ryan has performed with the Traverse and Ann Arbor Symphony Orchestras, as well as Vivo Sinfonietta, the Ann Arbor Cantata Singers, the Gilbert and Sullivan Society of Ann Arbor, and many other regional orchestras around the state of Michigan. Ryan toured the upper peninsula of Michigan with the Sonrisa Wind Quintet as an artist-in-residence for the Pine Mountain Music Festival, and in 2012 was a member of the Interlochen Ensemble, a wind quintet built entirely of Interlochen alumni. Ryan frequently performs and premieres new chamber works featuring the bassoon.
Ryan is also an active educator, teaching a studio of young bassoonists from throughout southern Michigan. Ryan has taught numerous beginning bassoon camps, masterclasses, and clinics at schools around Michigan, and given talks on how to create careers as a bassoonist.
Ryan has been featured on National Public Radio's "From the Top", Interlochen Public Radio, and can be seen in numerous videos in the University of Michigan Bassoon Studio YouTube series.
Ryan attended the Interlochen Arts Academy from 2004-08 where he studied with Dr. Eric Stomberg, after which he replaced his 'Interlochen blues' with Michigan's, attending the University of Michigan from 2008-2013 while studying with Dr. Jeffrey Lyman.
In his spare time Ryan can be found buried in the stories and poetry of Jim Harrison, watching movies, or engaging total strangers in intense discussion about how "Buffy the Vampire Slayer" is the greatest show ever aired on television.
John deGruchy

John deGruchy is a native of Long Island, N.Y., where he began studying the bassoon at age 15. He holds a Bachelor of Music degree from the Cleveland Institute of Music, where he studied under Cleveland Orchestra principal bassoonist George Goslee. He has also earned a Masters of Music from Rice University, studying under the tutelage of Benjamin Kamins.
John served as Second Bassoon in the Cincinnati Chamber Orchestra from 1988-1996. He has also performed extensively throughout southwest Ohio and the Midwest, including stints with the Cincinnati Opera and Ballet, The Louisville Symphony, The West Virginia Symphony, and the Whitewater Opera Company. He has also participated in the Grand Teton Music Festival, and the Los Angeles Philharmonic Institute.
Most recently, John has performed as principal bassoon with the Springfield Symphony in 2003 and 2004, the Middletown Symphony 2006 and 2007, and also the Hamilton – Fairfield Symphony 2007-2009. He also has performed at the Hamilton Fairfield Chamber Series and the Dayton Art Institute Sunday Chamber Music series in 2010. He and his wife Katherine founded the Burning River Winds in 2006.
Carlos Coelho
Carlos Coelho is an oboe repair specialist and owner of Carlos Coelho Woodwinds. Born in Brazil, he studied at the Manhattan School of Music and at Temple University. His masterclass will be on selecting the right instrument. Coelho Woodwinds will have a booth in the vendor hall so oboists can purchase supplies and speak to Carlos throughout the day.
Bruce Gbur

Bruce Gbur is the former professor of bassoon and oboe at Kansas State University holding degrees in bassoon performance and musicology from Baldwin-Wallace and the University of Georgia.  He is an accomplished contrabassoonist and is the founder and owner of the double reed publishing house Prairie Dawg Press. Prairie Dawg Press Homepage He is also currently the head of editing and publishing at Bocal Press.
Paul Nordby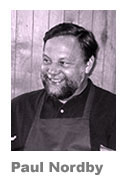 Recitals and Performances
Akropolis Reed Quintet
Burning River Trio
WSU Bassoon Ensemble
Vendors
Vendors will be on site with instruments to try, and music and supplies to purchase.
Are you a vendor and would like to have a display? Fill out the Vendor Application form (PDF).
Schedule
Oboes
Registration in Commons of Creative Arts Center         
| | |
| --- | --- |
| 8:30 am | Welcome Concert: Ambiance Trio |
| 9:00 am | Making Oboe Reeds with DeGruchy and Melissa Walding, M146 |
| 10:00 am | Chamber Music Masterclass with Tim Goklin, M146  |
| 11:00 am | Double Reed Ensemble Rehearsal with Bill Jobert, M162 |
| 12:00 pm | Lunch, CAC Balcony |
| 12:30 pm | Masterclass with Tim Goklin and Kathy DeGruchy, Recital Hall |
| 1:30 pm | Time with Vendors, CAC Commons |
| 2:00 pm | Double Reed Recital, Schuster Hall |
| 3:15 pm | Alexander Technique with Lori Davis, M162 |
| 4:30 pm | Student and Artist Concert, Schuster Hall |
| 5:30 pm | Akropolis Concert, Schuster Hall |
Student Bassoons
Registration in Commons of Creative Arts Center 
| | |
| --- | --- |
| 8:30 am | Welcome Concert: Ambiance Trio |
| 9:00 am | Time with Vendors, CAC Commons |
| 9:30 am | Masterclass with Ryan Reynolds, M162 |
| 10:30 am | Time with Vendors, CAC Commons |
| 11:00 am | Double Reed Ensemble Rehearsal with Bill Jobert, M162 |
| 12:00 pm | Lunch, CAC Balcony |
| 1:00 pm | Paul Nordby, Bassoon Care and Maintenance, M162 |
| 2:00 pm | Double Reed Recital, Schuster Hall |
| 3:15 pm | Alexander Technique with Lori Davis, M162 |
| 4:30 pm | Student and Artist Concert, Schuster Hall |
| 5:30 pm | Akropolis Concert, Schuster Hall |
College & Adult Bassoons
Registration in Commons of Creative Arts Center 
| | |
| --- | --- |
| 9:00 am | Masterclass with John DeGruchy, Recital Hall |
| 10:00 am | ContraTime with Bruce Gbur, Recital Hall |
| 11:00 am | Masterclass with Ryan Reynolds, Recital Hall |
| 12:00 pm | Lunch, CAC Balcony |
| 1:00 pm | Paul Nordby, Bassoon Care and Maintenance, M162 |
| 2:00 pm | Double Reed Recital, Schuster Hall |
| 3:15 pm | Time with Vendors, CAC Commons |
| 4:30 pm | Student and Artist Concert, Schuster Hall |
| 5:30 pm | Akropolis Concert, Schuster Hall |