Clubs
French Club
Dr. Pascale Abadie, Faculty Advisor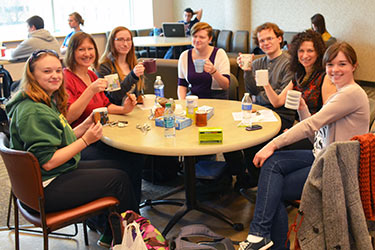 Formed in 1999, the Wright State French Club sponsors the twice-a-month "café français," where students, professors and native speakers enjoy a stimulating hour of conversation in French; a "soirée française" at a local French restaurant, and screenings of French films. In addition, the French Club helps organize the annual French Immersion Day in November.
Officers
---
Spanish Club
Profesora Maria Astudillo and Dr. Melissa Doran, Faculty Advisors
The Wright State University Club is a campus organization strongly dedicated to promoting the Spanish language and culture. Each semester the club holds several activities such as movie nights, scrabble night, mesas de conversación (conversation tables) and lectures dealing with the Hispanic culture. These  events are organized by club officers and are overseen  by our faculty advisors, Profesora Maria Astudillo and Profesora Melissa Doran. WSU students are able to participate in all club activities, assist in the planning of future events and run for available officer positions. If you are interested in being a member and would like to receive future activity information, please join us through OrgSync.com
 Officers
---
German Club
Dr. Elfe Dona and Dr. Renate Sturdevant, Faculty Advisors
President Obama declares German American Day. Read Proclamation!
German Club is a gathering of students of German and other German-speaking individuals. Get together with classmates, faculty and others for an informal conversation in German. All students are invited to join the German Club.
What can the German Club do for YOU?
Practice your German
View German films and read magazines.
Receive free tutoring
Listen to popular German songs
Participate in excursions to German-related sites
Field Trips
Enjoy German foods and drinks
For times and dates of the Germanic Studies Association (German Club), contact the club officers.
 Officers:
---
Arabic Club
Mr. Joshua Mabra, Faculty Advisor
The Arabic Club has been formed to bring awareness to the Arabic language, enhance reading, writing, and speaking in the Arabic language on campus and throughout the community. Join us to discover different cultures and dialects of the Arabic world. Stop by for some Arabic coffee, Baklava, Hummus... or join us for a night of Arabic movie (with English subtitles!) and more!  Open to everyone.
Officers:
---
Japanese Club
Dr. Kathryn Meyer , Faculty Advisor
こにちは!We're a group of students interested in promoting Japanese literacy and study of Japanese culture, history, and impact on the world. Open to everyone: no Japanese language skill is required!
Officers:
---
Chinese Club
Dr. Maan Jiang Broadstock, Faculty Advisor                                                   
大家好! The Chinese Club (中文俱乐部) is for students who are interested in learning more about the Chinese culture and language. We also welcome Chinese students to join us as well. For more information about our events please email one of our treasurers Grace Chang.
Officers:
Honor Societies
French
Pi Delta Phi, Theta Epsilon Chapter
Dr. Kirsten Halling, Faculty Advisor
Students who have completed at least one upper -division course in French, whose overall GPA is 3.0 or above, and whose GPA for all courses completed in French is at least a 3.0, are invited to join the WSU chapter of the national French honor society, Pi Delta Phi. The society recognizes outstanding academic work in French studies and a commitment to French and Francophone language, literature and cultures. A formal initiation ceremony is held once a year, and the society occasionally sponsors other activities.
---
German
Delta Phi Alpha, Theta Iota Chapter
Dr. Elfe Dona and Dr. Renate Sturdevant, Faculty Advisors
Interested in being a member of one of the most selective Honor Societies? Join the Nationale Deutsche Ehrenverbindung (National German Honor Society), Delta Phi Alpha! Delta Phi Alpha seeks to recognize excellence in the study of German and to provide an incentive for higher scholarship. The Society aims to promote the study of the German language, literature, and civilization and endeavors to emphasize those aspects of German life and culture which are of universal value and which contribute to man's eternal search for peace and truth. Requirements include: a minimum of two years of college or university German or their equivalent; a minimum GPA of 3.3 or its equivalent in German courses; a minimum cumulative GPA of 2.7 or its equivalent; and an indication of continued interest in the study of German language and literature.
---
Spanish
Sigma Delta Pi
Dr. Melissa Doran and Dr. Ksenia Bonch Reeves, Faculty Advisors
Minimum requirements for membership: At least three years of college-level Spanish (18 sh), including at least one three-credit hour class in Hispanic Literature or Hispanic culture and civilization; a minimum GPA of 3.0 on a 4.0 scale in all Spanish courses taken; a minimum overall GPA of 3.2 on a 4.0 scale. Students who meet these requirements and who are recommended by the department faculty will be invited to be a member of Sigma Delta Pi.
Useful Links
For additional language- and area-specific websites, please see Programs and then click on individual language from there.
Majors & Minors Meetings and Workshops
 Modern Languages Majors and Minors Workshop                                            
 Join us for the Majors & Minors Fall Workshop on Friday, October 3, 3:00 pm, Millett Auditorium
---
On Tuesday April 15, 2014, the Department of Modern languages hosted its Spring workshop for prospective and current majors and minors.
The workshop included five break out sessions:
Master in Business Administration
Master in Education
Master in Literature and Translation
Non-Profit Certification and Career Opportunities
TEFL & TESOL Certification and Career Opportunities
The event ended with refreshments and the department student award ceremony.