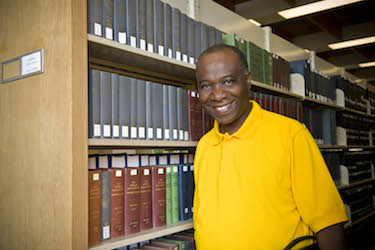 The International Studies (IS) Program was created at Wright State in 1988. Its primary mission is to provide students with the background, knowledge and skills necessary for success in an increasingly interdependent world. In their study of how cultural, historical, political and economic forces affect international relations, International Studies majors gain greater understanding of themselves and others. The major fosters civic engagement and social responsibility and promotes learning and scholarship while serving the community at the local, state, national, and international levels by preparing an informed global citizen.
The International Studies major offers a varied curriculum and provides students with the opportunity to tailor a program of study that is international in content to their interests. This multidisciplinary program of study consists of:
At least three years (or equivalent) of a foreign language
A choice of five core courses from seven disciplines in the arts, humanities, social sciences, and economics
A choice of one of six tracks (or areas of concentration) based on the student's academic interests and career goals:

Diplomacy and Peace Studies
Area Studies (Regional Concentrations)
Comparative Cultures
International Economic Affairs
Global Gender Studies
Research Intelligence Analyst

Students with a 3.0 GPA or higher are offered the opportunity for independent study, field research, internships or co-ops (with credit applied toward the major)
Students may choose to graduate with departmental honors, which is noted on their transcripts and in the commencement program
Although it is a relatively young program, the number of International Studies majors has quadrupled in size since 2001. The program currently has more than 700 alumni who work in a variety of governmental and nongovernmental organizations. International Studies graduates from Wright State have found employment in the public and private sectors, including careers as diplomats,  intelligence specialists, research and business analysts, consultants, military officers, teachers, in AmeriCorps, as instructors of English as a second language, in publishing,  and as college administrators.
Exit interviews with graduating seniors and alumni surveys indicate very high levels of satisfaction with the major. Most of the courses for the IS major are small---(between 15 and 30 students) and many are taught seminar style, featuring discussion, collaboration, and research papers.  Students like the diversity of courses they get to choose from, and they give high scores to their professors' teaching. In a recent survey, every single respondent agreed that the coursework they took for their IS degree enhanced their ability to understand world affairs, their understanding of other cultures, and of their own personal values. In addition, in the exit interviews conducted with every graduating senior since 2004, 100% expressed satisfaction with the program overall and 100% reported that they felt that were prepared to obtain acceptance to a graduate or professional school.
Applications
Scholarship Information and Applications
College of Liberal Arts Scholarships
Search and Apply for Scholarships here
College of Liberal Arts students have multiple opportunities to secure scholarships to ease the path to graduation. Some scholarships are based on merit, some on financial need, and some depend on the student's course of study.
Incoming freshmen should contact RaiderConnect for information about available loans, scholarships, and grants.
In addition to the university-wide scholarships administered through RaiderConnect, the College of Liberal Arts has a number of first-year scholarships for freshmen intending to major in the college.
There are also scholarships designated especially for transfer students.
The college has scholarships designated for continuing students. In addition, all majors in the college have scholarships for continuing majors. See the webpages for each major for more information.
International Studies Checksheets