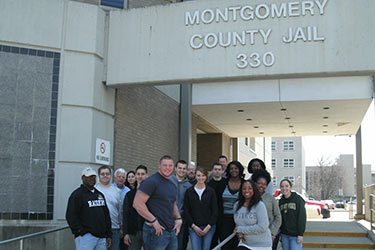 The Crime & Justice Studies (CJS) Program provides both major and minor opportunities. The CJS major is an interdisciplinary Bachelor of Arts degree. The curriculum develops knowledge of the criminal justice system, theories of criminal behavior, law administration and policy and social justice. Courses also involve the study of social issues and conditions which confront and affect the criminal justice system. Students participate in the practice of criminal justice through internships in law enforcement, pre-law or social service agencies.
Students admitted into the CJS program must have: 1) earned a minimum cumulative grade point average of 2.5, 2) completed ENG 1100 with a grade of "C" or better and, 3) completed two additional Core classes in the College of Liberal Arts.
Major
Within the major, students are required to complete a fifteen course sequence that includes five Crime and Justice Studies Program Core requirements (including an internship), seven courses across four Crime and Justice Studies Foundation Areas (Behavior, Institutions, Law, and Ethics & Diversity), as well as three additional Crime and Justice Studies Advanced Electives. See our Crime & Justice Studies Major Program Checksheet (PDF) for more information.
Minor
A minor in Crime and Justice Studies requires the completion of seven Crime and Justice Studies courses (21 hours) comprised of three CJS core requirements and one of each of the CJS Foundation areas. The Crime & Justice Studies Minor Program Checksheet (PDF) provides more specific information about these requirements.
A total of 21 semester hours are required to complete the minor in Policing and Investigative Studies;  12 hours from four Core areas (Police and Society, Policing and Investigative Practices, Law, and Diversity and Ethics) and 9 hours from the Electives.
A total of 18 semester hours are required to complete the (NEW in Fall 2016) Forensic Studies minor; two core, one science and three electives.  All majors, including Crime and Justice Studies, are eligible to apply for this minor.
Internship
Students may participate in supervised field experiences within correction, probation, law enforcement agencies, and public defenders or prosecutor's office. Student interns will work in the field within the Miami Valley or other locations. This class will require keeping a log and progress reports, as well as preparing a paper synthesizing readings and field experience. Final approval and placement of interns will be at the discretion of the Internship Coordinator. For more information about the Internship Course go to our Internships page.