After you have registered for your last semester of classes, meet with your faculty advisor to verify major requirements will be completed.
Your faculty advisor will give you a signed grad check "coupon" to bring to your academic advisor.
See the list of departments to find contact information for your program. 
Schedule an appointment with your academic advisor in 120 Millett.
Call (937) 775-2601
Bring signed grad check coupon to appointment with your academic advisor.
This is an initial review of your academic records, keep in mind that a final review will take place once after the semester ends and all grades are posted. Participation in the commencement ceremony is NOT a confirmation that all degree requirements have been met
Complete the online Graduation Application 
and RSVP for the Commencement Ceremony
Access to the online application for graduation is possible only after the Grad Check has been completed
WINGS Express / Student and Financial Aid / Registration and Records / Apply for Graduation
Be sure to complete all the steps of the graduation application through to completion. You should receive a confirmation that says, "Your graduation application has been received by the Registrar's Office..."
Be prepared to pay the $35 graduation fee. 
Be prepared to indicate whether or not you plan to attend the Commencement Ceremony. (Summer and Fall graduation applicants participate in the Fall Commencement Ceremony, and Spring graduation applicants participate in the Spring Commencement Ceremony.)
Finish your last semester of classes at Wright 
State.
Congratulations from the College of Liberal Arts! We'll see you at Commencement.
Degree conferral will take place about 6 weeks after commencement. Delivery of diplomas may take slightly longer than 6 weeks.
DEADLINES: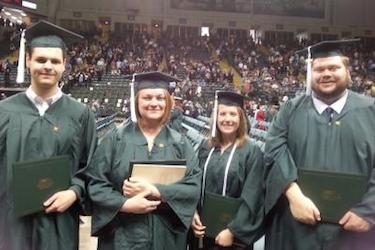 All steps of your graduation check must be completed by Wright State's deadline.  It is posted on the Academic Calendar for each semester.  It is the 2nd Friday of the term you want to graduate.