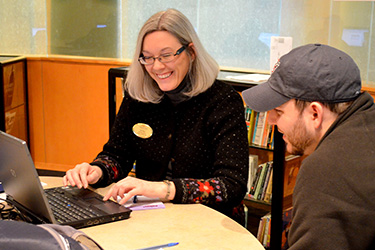 The College of Liberal Arts Advising Office can help both students and faculty with advising issues. College advisors specialize in answering questions about general education requirements (the Wright State Core), university requirements, college requirements, and helping students in their quest to find the right major, minor or certificate. For questions about specific majors students should go directly to the department or program. The college is committed to helping students succeed in graduating in a timely manner.
College Advisors can address your questions in a number of ways: via a short, in-person appointment, over the phone, or in email. The college advising office is located in 120 Millett Hall, just down the hall from the main College of Liberal Arts office.
College Advisors
To set up an appointment with your college advisor call (937) 775-2601.
Faculty Advisors
College of Liberal Arts faculty members enjoy sharing their enthusiasm for their fields with students and are dedicated to helping students succeed. To pursue a conversation about a possible major, contact the department chair or director of the program you're interested in.
Once students have been admitted to a major in the college, they are assigned a faculty advisor to assist them in fulfilling the requirements of the specific program. The name of the faculty advisor is listed on the degree audit (DARS) report for each student.
Four Year Graduation Plans
Each major in the College of Liberal Arts can be completed in four years by following its Four Year Graduation plan, given as a .pdf at the top of the file for each major. Most majors can be combined with minors or certificates to provide additional credentials and fields of study. See your advisor for help in crafting a four year graduation plan for your chosen major/minor or major/certificate combination.